As a family photographer I am always looking for amazing outdoor locations for outdoor family photos in Vancouver Washington. Luckily, hiking and being outdoors is one of my families absolute favorite things to do and we love finding kid friendly hikes.  We get spoiled living in PNW because we have some amazing trails to take our kids to. It's double the fun for me as we get to take our kids on an adventure and I get to check out new outdoor locations for family photos! 
Beautiful locations for outdoor family photography in Vancouver, Washington
Before we had kids, we used to be naive as to how many great hikes there were locally. I was probably a bit of a hiking snob before I was forced to really check out some closer areas, I used to think we had to really "get out there" to see the real beauty of the PNW. And although we have been to really amazing places, I am still pleasantly surprised when we find another awesome hiking area for our kids and an incredible location for outdoor family photos in Vancouver!
As you know timing naps, feeds, snacks, and packing up all of your things your kids need is a lot. Since the birth of our first child, we have made an effort to stay closer to home for regular hikes and leave the farther ones just for special occasions or until they are a little older. Our kids are three years old and six months old, so we like keep it easy and simple! You know what else is pretty cool? My son is becoming quite the little hiker!
Our Top 5 Kid Friendly Hikes in Vancouver Washington
Cougar Trails/WSU Campus
We love the view of Mt. St. Helens, Mt. Hood, and the beautiful forest area that surrounds it. There is so much to see here such as: a forest, large open fields, views of the mountains, little wooden walkways, streams, and tons of birds/critters to see! Dog friendly and a lot of simple trails to choose from depending on what your kids can do. This is one of my favorite autumn locations for family photos in Vancouver.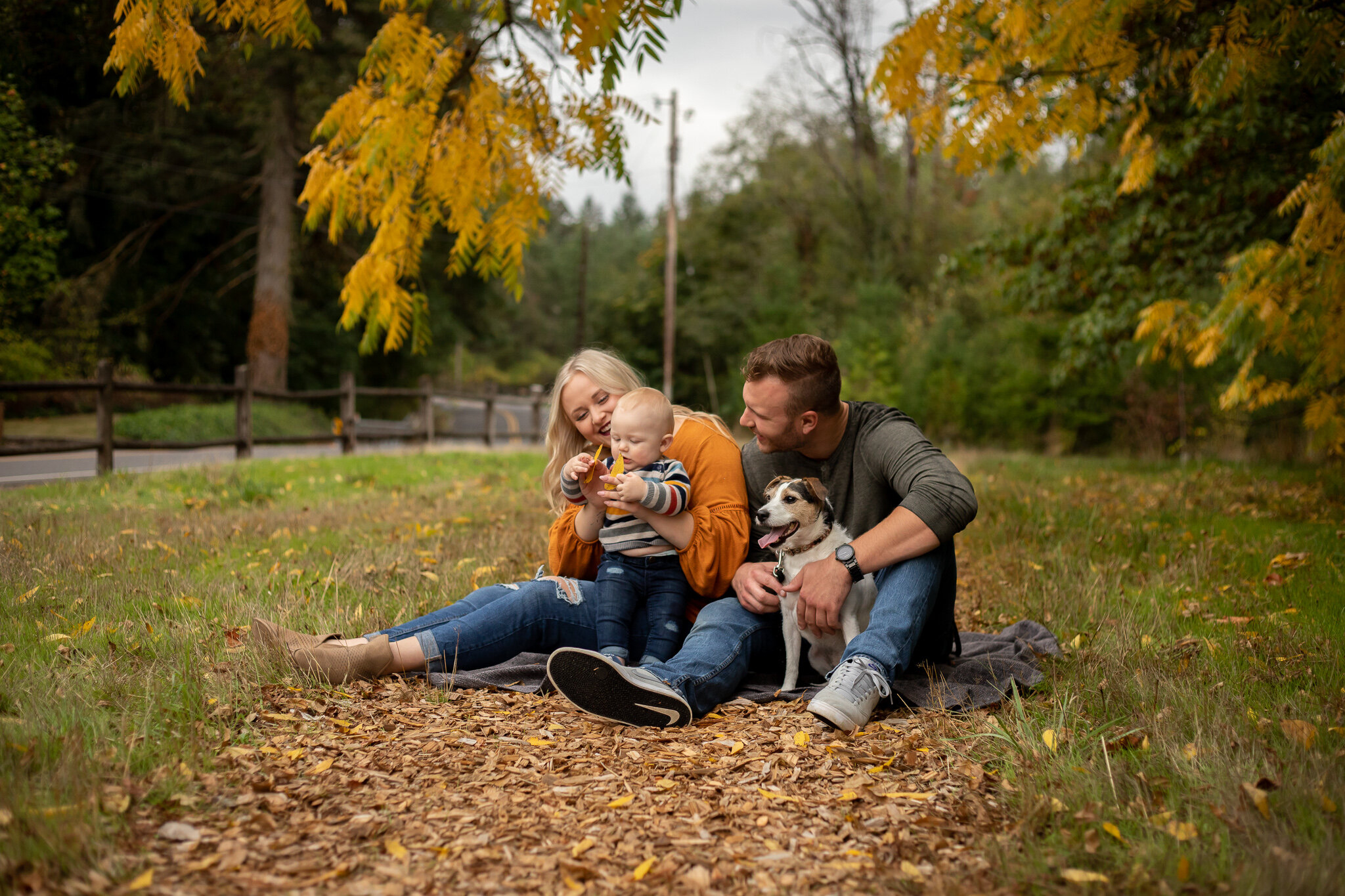 Whipple Creek
This was one of the first hikes we discovered that we loved after our first baby was born. We really wanted to get outside one weekend and we knew with his teething schedule (ugh, teething is hard!) we didn't have much time. We have loved this place so much ever since. It's a dense forest with super easy trails and a little more challenging trails for your little ones. We love seeing our son take on the longer trails and fun to see him really love it. We hope that our kids love the outdoors as much as we do! Dog friendly and you might even get to see horse back riders on the trail too! We were lucky enough to have two coyotes walked pass us one evening as we were walking back to the car, we love seeing wildlife.
Burnt Bridge Creek
This trail is huge! One end starts on Burton road area and goes all the way to Vancouver Lake area. You can pick an area one day and do a completely different area the next. We enjoy the Stuart Glen west entrance. It's easy to take a stroller, dog friendly, wide paved trails, a forest, a creek, and a large open field with beautiful blossoming trees in the Spring!
The best kept secret for kid friendly hikes is Morgan/Salmon Creek
This is a hidden treasure! It's quiet, lush, and we have had the entire place to ourselves most of the time! It's hard to believe that it's not that far out of town, it looks untouched and incredibly pristine! You'll see huge trees, moss, slugs, and tons of snails. (Have your kids watch Turbo the movie prior to this hike, they will find him everywhere here!). I am in awe of this place, its a super easy hike, dog friendly! Bring your boots it can get a little muddy but so much fun for kids to stomp around in it!
Lacamas Lake
This is our default hike when we just want it all! It's got the lakes, forest, creeks, hills, wide trails, and spring time is one of the best times to check it out, we love seeing the Camas Lillies bloom! The tiny purple flowers in a huge rocky field is breathtaking. The hike to the flowers may be a little more challenging for younger kids, you might plan on carrying them part of the way or putting them in a child carrying backpack.
Where is your favorite place for outdoor family photography in Vancouver Washington?
Do you have a location that you have had your families photos taken in Vancouver that you loved or a location that you would love to have them at? Let me know, I'd love to hear from you and let me know what else you'd love to know about on the next blog!
Happy Hiking Friends!
Are you looking for a family photographer?
If you are looking for a family photographer that keeps photo shoots fun and relaxed, contact me and let's chat!